Voting… on the blockchain?
Horizon State is one of my favourite home grown (Australian) ICOs, while I didn't get in on the ICO itself I've since jumped in head first, Horizon State has built a token-based blockchain voting and decision-making platform that delivers unprecedented trust through the integrity and post-unforgeable attributes of DLT (distrubuted ledger technology, AKA, the Blockchain). Horizon State delivers a secure digital ballot box that cannot be hacked, wherein results can never be altered, and voter identities are protected.
The platform is already being used by MiVote, a Melbourne based not-for-profit which hopes to transform Australia into more of a direct-democracy. Horizon State has been engaged by NGOs, Governments, and private organisations around the world, to revolutionise the way they engage their communities.
The key issues addressed by Horizon State features are:
Trust, confidence and security
Anonymised voting
Unencumbered access
Transparency
Cost of voting
You can pickup your $HST tokens from my favourite Australian exchange Coinspot and also from Kucoin.
Click here to head over to Horizon State's website for more information.
Now for the chart(s)
I want to show the differences in times frames by looking at both the Weekly chart and the Daily chart to see how to gain a better perspective on your investment/trades.
We'll start with the Weekly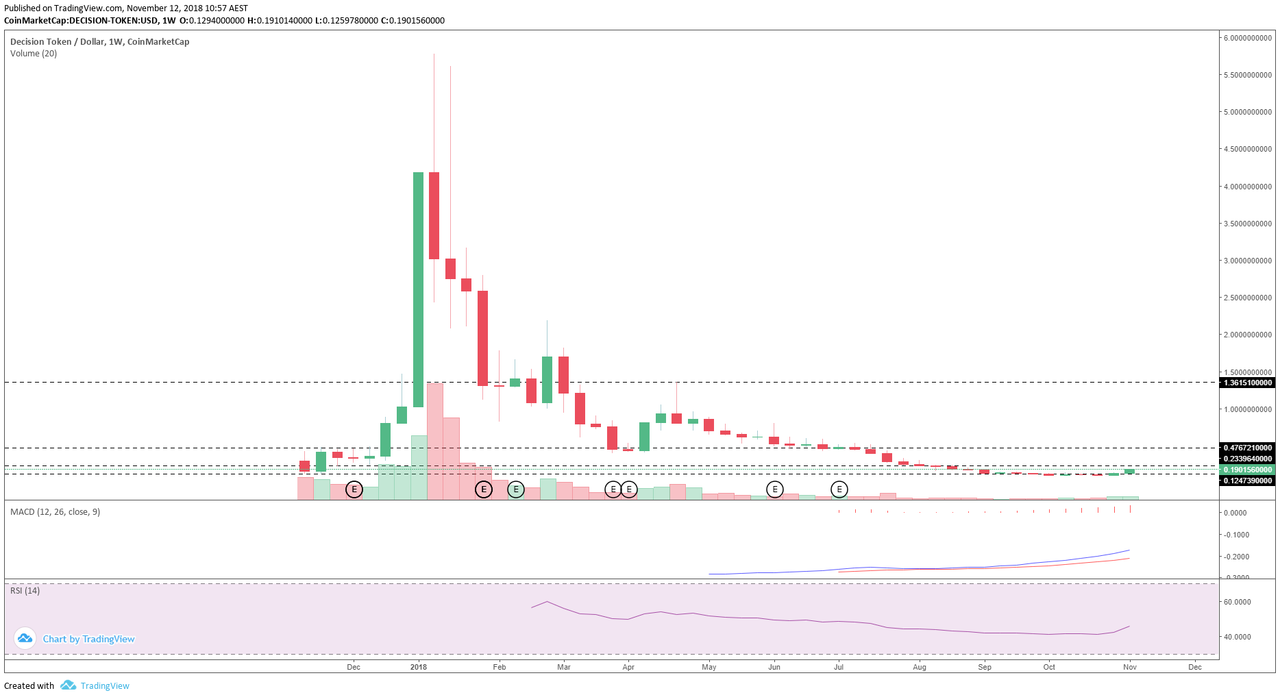 click for larger image
You'll notice we've been in a sustained bear market just like almost every other cryptocurrency since the beginning of the year. If you look at the first series of red candles you'll notice a sharp drop, the second less sharp and the third has now flattened out into sideways movement with the last two candles showing some positive movement. This is a great indication that $HST has found it's bottom. You'll also notice that the lowest support line had been breached for a short period of time and we've now moved back, more positive feedback showing the bottom is in along with a slight increase in volume over the past 3 week.
We also have the two momentum indicators RSI and MACD tending upwards, with the RSI making a more forceful move upwards coming into November.
So to summarise the weekly chart, HST is looking like a good opportunity to buy:
Large upside potential;
Momentum indicators are trending up;
Lowest support was breached however has since turned support;
Sideways momentum with no large drops;
Increasing volume;
And we'll finish with the Daily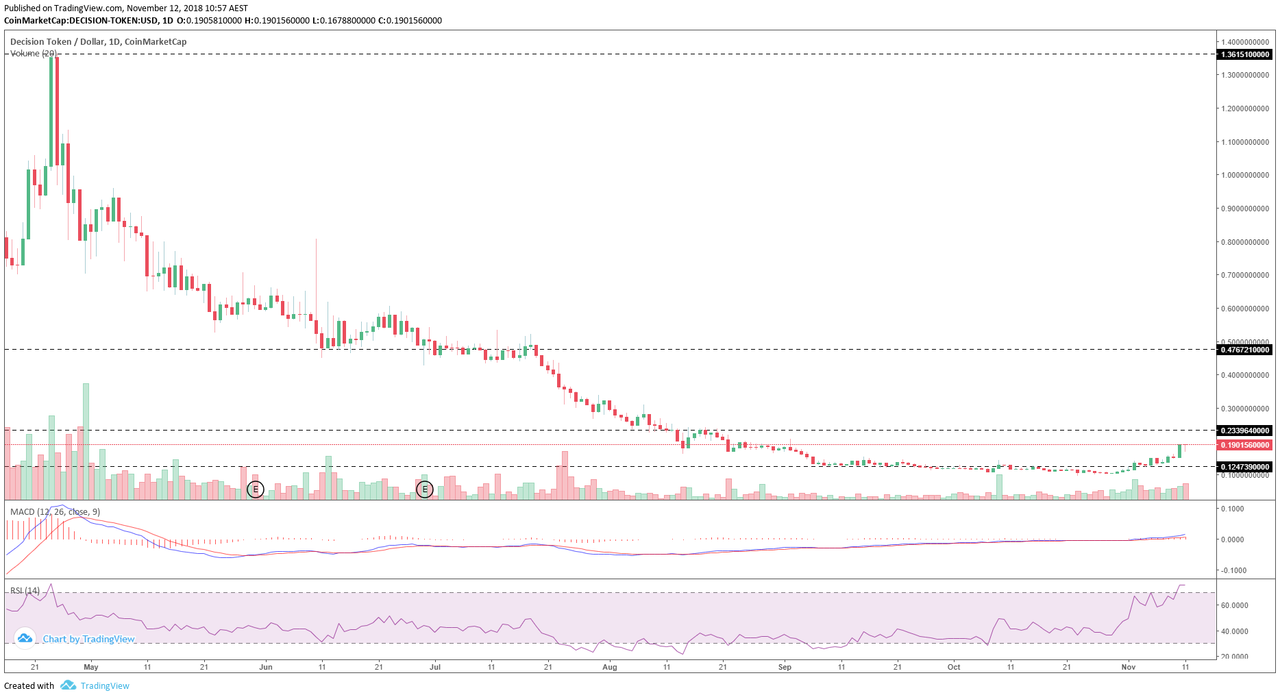 click for larger image
You'll notice straight away it's like we're looking at a different chart, taking the time to change time frames or zoom in and out allows you to gain a different perspective giving better entry/exit points.
The last candle (which hasn't closed yet) is in the form of a Dragonfly Doji which usually signals a reversal in price movement.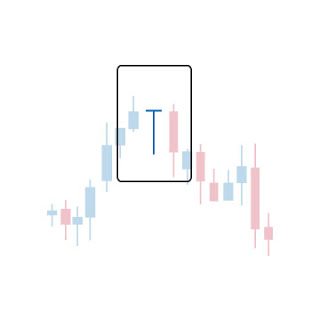 Dragonfly Doji
It's important to use multiple indicators to confirm price movement, so the Dragonfly Doji isn't enough to confirm that the price is moving down in the short term. If we follow the red dotted price line we can see that around August 11th to September the price of $HST bounced around the same price range, this indicates that we've hit some resistance. And while the MACD looks relatively fine the RSI has enter the "overbought" range. So let's summarise the what we can see on the daily chart:
The bearish trend reversal candle Dragonfly Doji; (wait until the day is over for confirmation of this candle)
Resistance shown by following the price line;
Oversold RSI;
I think it's safe to say that in the short term the price of HST my revisit the recent lows of .12c giving a better buy entry, but taking into account the weekly chart above the long term movement of HST is likely to be of great potential.
---
Thanks for taking the time to read my article, help me out by donating and feel free to join any of the quality exchanges below with my referral links.
BTC:
3J9KJuC3BU7VzMyMegsHPAxu4sXvZwTfxk
ADA:
DdzFFzCqrht1GmkRMxkbKGqynsE4QRjYLbQ9SraJjP5Sj51tDc6iphbWjJRCxLZRZ885tF7jfXXYnfz6VCmVwQNxScVgdSwTZPMW1sGG
XTL: Se4KBWBqJaTMEYvMwS8b5nZaQ2USWzs3nG5FknM1fEqz8XRq56dPxA45e6entubkHh31N4Pos48cAbdJVEFQZF7w1US2bMHKk
Get your cryptocurrencies from…
💲 Coinspot (for Australians): https://www.coinspot.com.au?affiliate=CH9W5
🤑 Binance: https://www.binance.com/?ref=10879807
💰 Kucoin: https://www.kucoin.com/#/?r=1y71c
👏 Cryptopia: https://www.cryptopia.co.nz/Register?referrer=fvknl
---
This is not financial advice, I'm just a stranger on the internet.
---