Sia, decentralised cloud storage alternative.
Welcome back to my Simple Charts Series. Today we'll be focusing on Sia, a noval alternative to cloud storage platforms such as Google Drive, OneDrive, Amazon S3. If you haven't already don't forget to check out yesterdays Metal Pay $MTL – Simple Charts Series.
As with most blockchain services the power is returned to the user, not only are your files much safer and distributed across the network rather than a centralised location but the service is much cheaper. You can also rent out your available storage space and in doing so earn the Siacoin token $SC.
Sia in a nutshell:
Completely private, your files are encrypted and distributed across the Sia decentralised network;
Far more affordable, storing 1TB of data on Sia cost on average $2 per month;
Highly redundant, no single point of failure with encrypted file segments stored on nodes globally;
Open source, a thriving community of developers building new technologies on top on the Sia network;
Visit www.sia.tech for more information.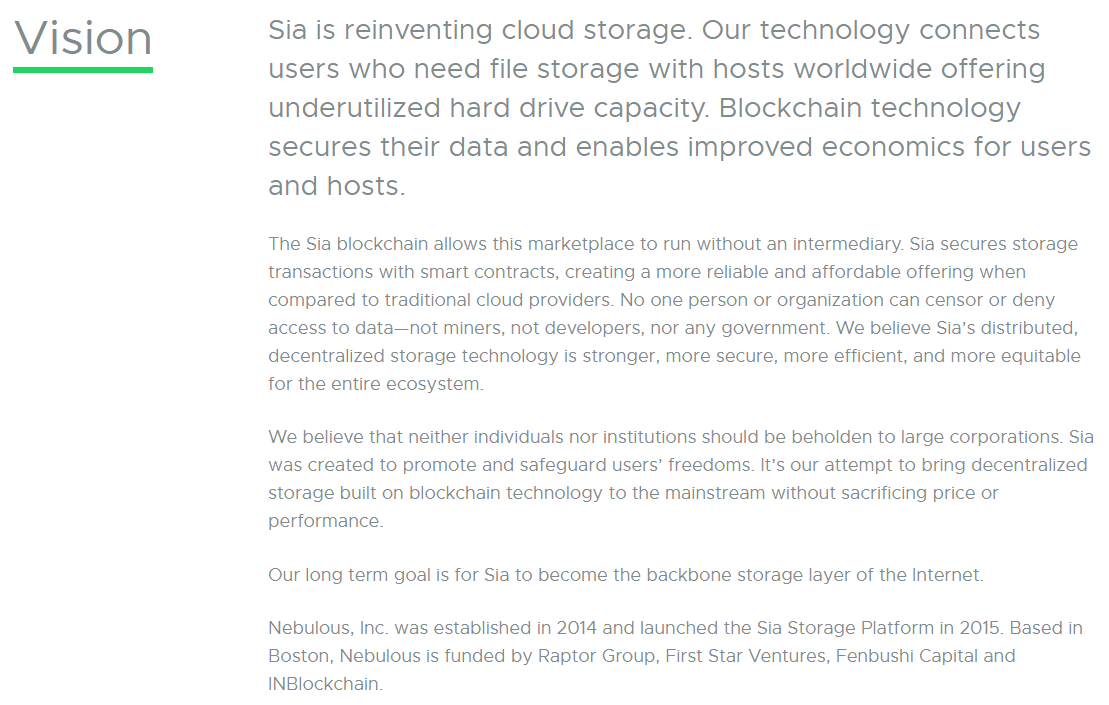 click for larger image
Now for the chart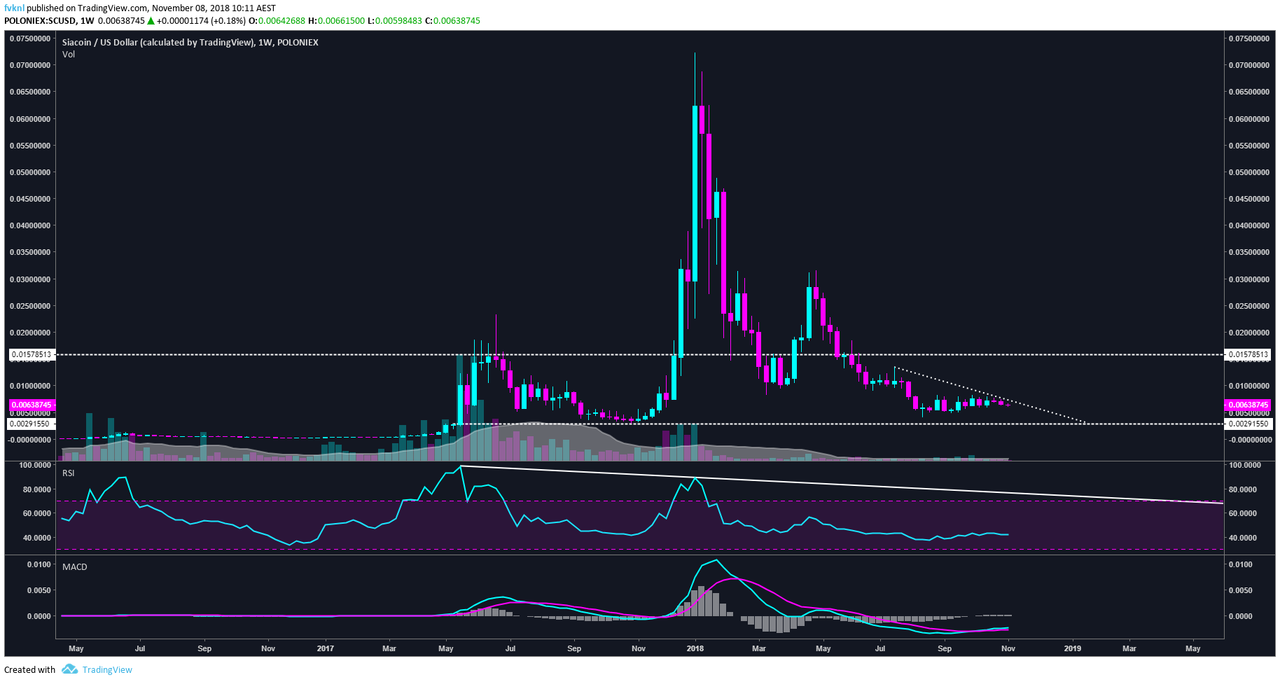 click for larger image
Yesterdays $MTL chart had a bit more clarity in terms of the direction of price action. This $SC chart shows a bounce off the lower support line in late July but has failed to push through the descending trendline for 3 weeks in a row (each candle represents 1 week, as this is a weekly chart).
When coming across a chart like this it's good to step back and wait for a confirmation of the price movement, i.e. wait for a candle to break above the descending trendline and close. It's current price movement is one of indecision, neither the bulls nor the bears have taken charge.
We could see a could see a significant rejection of the descending trendline and drop to the lower support line at, or we could continue to slowly move down the trendline until reaching the lower support line. Alternatively as could break above the descending trendline but continue to slowly move down the trendline until reaching the lower support.
It's important to be able to identify indecision in the markets, this allows you to identify the ideal point for buying in. As I mentioned above waiting for a decisive move in price action is important; like a break above the descending trendline which may appear bullish only to continue moving downwards on the opposite side of the descending trendline, in this case placing a stop-loss to limit the loss of capital should a movement quickly change direction.
---
Thanks for taking the time to read my article, help me out by donating and feel free to join any of the quality exchanges below with my referral links.
BTC:
3J9KJuC3BU7VzMyMegsHPAxu4sXvZwTfxk
ADA:
DdzFFzCqrht1GmkRMxkbKGqynsE4QRjYLbQ9SraJjP5Sj51tDc6iphbWjJRCxLZRZ885tF7jfXXYnfz6VCmVwQNxScVgdSwTZPMW1sGG
XTL: Se4KBWBqJaTMEYvMwS8b5nZaQ2USWzs3nG5FknM1fEqz8XRq56dPxA45e6entubkHh31N4Pos48cAbdJVEFQZF7w1US2bMHKk
Get your cryptocurrencies from…
💲 Coinspot (for Australians): https://www.coinspot.com.au?affiliate=CH9W5
🤑 Binance: https://www.binance.com/?ref=10879807
💰 Kucoin: https://www.kucoin.com/#/?r=1y71c
👏 Cryptopia: https://www.cryptopia.co.nz/Register?referrer=fvknl
---
This is not financial advice, I'm just a stranger on the internet.
---